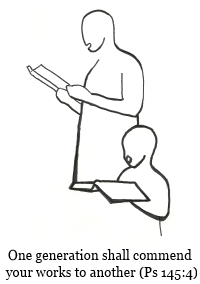 This website 
is for Christians who wonder why (and how) they should retain and improve hymn singing. It has two parts. The first lays out a detailed argument for traditional practices; they are the best means we have for doing the job Scripture assigns to us in passages like Ephesians 5:19 and Colossians 3:16. The second applies the principles of the Biblical Model to the practical nuts-and-bolts task of evaluating particular poems and tunes.

Paul Munson and Joshua F. Drake teach music and humanities at Grove City College in Pennsylvania.


New
 hymn studies added 4 August 2017:
Oh, Come, All Ye Faithful
Oh, Come, My Soul, Bless Thou the Lord
Safely through Another Week
When I Survey the Wondrous Cross
Who Is on the Lord's Side?

Prefer
 paper? Our student, Taylor Drummond, has made part 1, A Biblical Model of Congregational Singing, available in print here.